After I became a
blushing bride
and the
boys got sessay
, it was time to start photos.
During the planning process, there were very few things on which Mr. Lab went out of his way to voice his opinion. For instance, he wanted seafood on the menu (he practically picked the entire
Lady & Sons menu
) and he wanted me
to wear a veil
(didn't happen but now I wish I had at least worn one for the ceremony).
But the biggest one? He didn't want to see me before the ceremony.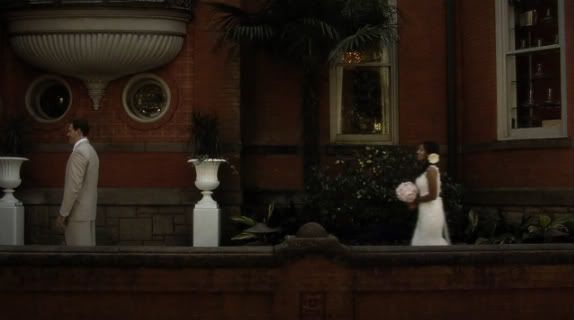 Freeze frame from our wedding movie trailer.
My photographer was against this from the get-go (and to be honest, so was I), but it was what Mr. Lab wanted. This was his wedding, too, so I said okay after he stated his case. We knew we'd be up against a "diminishing light" factor for our formals because the ceremony was set for 4 pm. Sunset begins about 5:30 pm in November with complete darkness at 6:30 pm. But we knew it could be done because
our friends
had a similar situation with the no first-look/light factor and it worked out well.
I let our photographer know that we wanted to get as many of the photos done before the ceremony (me with my girls, him with his guys, me with my mom, him with his, etc.) so we could reserve as much of the post-ceremony photo time as possible for me and him plus the entire wedding party and family as possible. We don't have huge families anyways, so from my experience with FSIL Leslie and BM Brooke's wedding, I figured we'd have plenty of time.
We also planned to replace the "first look alone time" through our post-ceremony carriage ride and eating a quick dinner together while guests enjoyed the last part of the cocktail hour.
So it was settled. I would have my hair and makeup done in time for formal photos to start around 2 pm with no first look. Mr. Lab and I wouldn't see each other until 4 pm when I walked down the aisle.
And then Mr. Lab did something I've only seen him do one other time:
HE CRIED
.
I couldn't help laughing at him because I was caught off guard. I really didn't think he'd cry! Then for a second I wished we could have saved that moment for the ceremony. But looking back, he probably would have fallen apart if he didn't get it out of his system! LOL
(Btw, the only other time I'd seen him cry before that was at a showing of Marley & Me. And he's only cried once since the wedding when our
Dixie baby
passed away. Mr. Lab loves his Labs, Mrs. Lab included. ;) )
After our first look, we headed across the street to Savannah's famed Forsyth Park to take more photos.
I was still without my precious Loubs, so I had to walk barefoot through the park.
Pretty soon, we were joined by our wedding party to take all of our formals before Mr. Lab and I made this thing official!

What are your feelings about first looks? Anyone have a successful non-first look?

Previously on Southern Sweethearts:
Next Up: Our Wedding Party...and Paparazzi.

*All professional photos by Lindsi Jones Photography unless otherwise noted. Some images have been slightly altered by moi.